TRW
TRW Brake Pads & Rotors
TRW Brake Pads are known as 'the best in the business', providing high-quality, aftermarket solutions that are reliable and engineered for performance. For over 100 years, TRW has set standards and broken new ground when it comes to the safety and performance of your vehicle.
These True Originals use state-of-the-art manufacturing to produce a wide range of products to supply the Australian and New Zealand marketplace. Backed by a global network of distributors and suppliers, TRW sets the bar when it comes to quality products. Each component is tested multiple times to ensure safety and efficient performance, so you know you can trust the products offered by this brand every time for total peace of mind.
---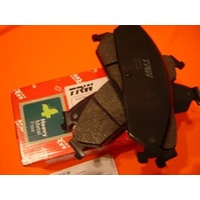 or 4 payments of $25.59 with

Info
Not yet rated
or 4 payments of $43.12 with

Info
Not yet rated
TRW Brake Pads – Quality You Can Trust
This brand produces one of the largest auto safety ranges in the world, and they are renowned globally for their standards of excellence and reliability you can depend on.
TRW brake pads and rotors are designed to suit a range of passenger cars and commercial vehicles. They're manufactured with advanced silicate coating (COTEC), which improves the level of contact between the pad and the disc. They're also powder-coated to stop them from rusting – and the pad's backing plate is made with high-quality steel.
These parts cut stopping distances by up to 7m, ensuring optimum performance and exceeding OE standards. TRW backs this up with a 24,000km warranty for your total peace of mind.
Australia's Premium Auto Parts Supplier
When it comes to supplying you with quality auto parts you can trust, VMAX is Australia's trusted supplier. We are proud here to distribute the TRW range across Australia, with free shipping Australia-wide.
Need further advice? We have a wide range of products to suit all makes and models of vehicle – and our team is on-hand to assist you in selecting the best system for your car. Give us a call today on 0404 650 131 or email vmaxbrakes@gmail.com