VMAX Brakes - High-Quality TRW Brake Pads
Here at VMAX Brakes, we blend top-tier quality with excellent performance to deliver enhanced driving safety and enjoyment. Specialising in a wide range of brake solutions, TRW brake pads, we are committed to delivering optimum braking performance.
Renowned TRW Brake Pads
Discover the difference with our high-quality TRW brake pads. Masterfully designed for effective stopping power,, and superior durability, our brake pads provide unmatched braking reliability for your vehicle. Experience unrivalled on-road safety and command every stop with our TRW brake pads.
TRW Brake Pads in Australia
As a leading provider of TRW brake pads in Australia, our products are designed to meet the most demanding safety standards. Offering unmatched stopping power and durability, VMAX Brakes' TRW brake pads provide the confidence every driver seeks on the road.
At VMAX Brakes, we prioritise both performance and safety. Explore our extensive range of products from TRW brake pads to, and experience braking solutions that truly deliver.
Browse through our wide assortment, specially designed for different vehicle needs, or get in touch with our knowledgeable team for personalised advice. With VMAX Brakes, superior vehicle safety and peak performance are always within your reach.
Explore Our Vast Range Of Products
Step into our diverse selection of top-grade braking solutions, each fine-tuned for maximum performance and safety:
Elevate your braking system to new heights with the trusted quality of VMAX Brakes.
TRW Brake Pads - Frequently Asked Questions
How do your TRW brake pads enhance my vehicle"s performance?

Our TRW brake pads offer superior stopping power, resulting in a safer and smoother driving experience. Designed for long lifespan and, these pads help enhance both the performance and durability of your vehicle"s braking system.
Are your TRW brake pads suitable for all vehicle models?

Yes, our range of TRW brake pads caters to a wide array of vehicle models. The brake pads are precision-engineered to meet the specific needs of various vehicles, ensuring a perfect fit and optimum compatibility.
Why should I choose TRW brake pads in Australia from VMAX Brakes?

As a top provider of TRW brake pads in Australia, VMAX Brakes ensures top-tier quality and performance. Our TRW brake pads deliver superior stopping power, longevity, and safety, providing drivers with a reliable braking solution for a safer and smoother driving experience.
---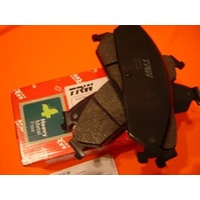 or 4 payments of $27.34 with

Info
Not yet rated
or 4 payments of $73.75 with

Info
Not yet rated
TRW Brake Pads – Quality You Can Trust
This brand produces one of the largest auto safety ranges in the world, and they are renowned globally for their standards of excellence and reliability you can depend on.
TRW brake pads and rotors are designed to suit a range of passenger cars and commercial vehicles. They're manufactured with advanced silicate coating (COTEC), which improves the level of contact between the pad and the disc. They're also powder-coated to stop them from rusting – and the pad's backing plate is made with high-quality steel.
These parts cut stopping distances by up to 7m, ensuring optimum performance and exceeding OE standards. TRW backs this up with a 24,000km warranty for your total peace of mind.
Australia's Premium Auto Parts Supplier
When it comes to supplying you with quality auto parts you can trust, VMAX is Australia's trusted supplier. We are proud here to distribute the TRW range across Australia, with free shipping Australia-wide.
Need further advice? We have a wide range of products to suit all makes and models of vehicle – and our team is on-hand to assist you in selecting the best system for your car. Give us a call today on 0404 650 131 or email vmaxbrakes@gmail.com